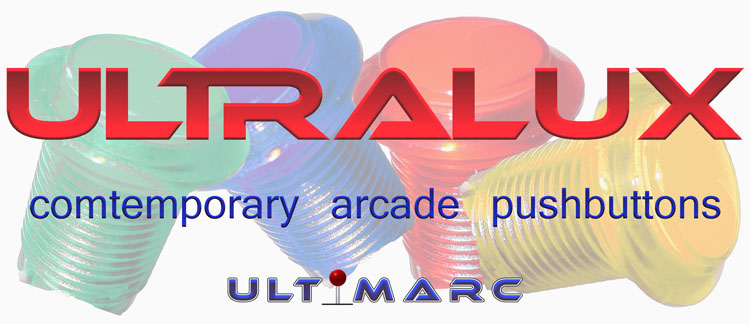 LED Illuminated pushbuttons with stunning real chrome-plate or translucent 2-tone color-keyed surrounds
NEW! Now available in
R

G

B
for full variable-color mixing!
NEW! We now supply our own brand of high-quality low actuation-force microswitches with these pushbuttons.
Look great when they are not illuminated, Fabulous when they are!
Standard 28-30mm mounting hole
Low profile. Surround only 3.8mm above panel
Switches have 4.8 mm tags.
Bayonet-fit LED housing with 6.3mm tags
Custom-designed LED lamps with integral wide diffuser
Switches from the most respected manufacturer of arcade controls

5 Volt High Intensity LED lamps
RGB Variants have pre-assembled wiring harnesses which plug directly into our PacLED64 LED Controller or I-PAC Ultimate I/O Controller.
Lighting your pushbuttons
Full dimming control including RGB Color mixing
See our PacLED64 LED Controller for full details
Always Lit
If you simply want to light the buttons permanently, just connect to a 5 volt supply, such as from a PC hard drive power connector. Using our pre-made "daisy-chain" harness will save a lot of time.
Simple Off/On Control
Check out our Pac-Drive output driver board. This is supported by several Front End menus such as Mala, to control pre-set flash sequences and illuminate the buttons used in each game.

Tutorial Video
Thanks to Daniel Spies, several of our products now have information videos including this one. Check out the channel here:
Ultimarc Tutorial Videos