Amazing comparative design, handles almost all denominations.
This amazing coin mechanism works on a comparative principle. The coin to be used is clipped into the back of the mech. Then all inserted coins are compared against this coin, and validated.
The mech needs a 12 volt supply.
It is supplied with:
Chrome mounting screws
Connecting cable
Zener diode which must be connected for use with 5 volt devices.

See the Mounting Diagram tab above for details.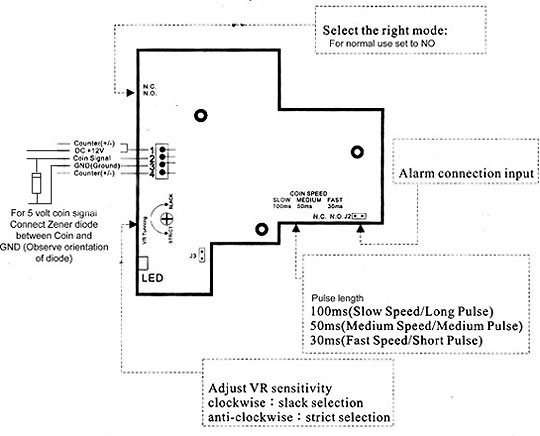 Coin Mech setup steps:

Set the slot height plate to the correct coin size. Note that for larger coins, this plate is best removed to avoid bearing against the coin door.
Clip the correct sample coin into the spring-loaded clip, in place of the dummy plastic coin.

Leave the switches unchanged for most applications

Connections are as follows (see diagram above):

Pin 1 connects to a 12 volt supply. This can be from a JAMMA power supply or a PC disk drive connector (yellow wire).

Pin 2 connects to the I-PAC coin 1 input.

Pin 3 connects to GND on the I-PAC

The Zener diode connects between pins 2 and 3 on the coin mech plug. It is possible to push the wire ends of the diode into the plug connector housing. Note the "line" end of the diode must go to pin 2.
The coin signal is normally a 12 volt signal. If using with devices which expect a 5 volt signal it is VITAL to connect the supplied Zener Diode as shown otherwise the device you are connecting to will be damaged.