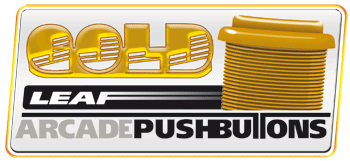 High-Performance Arcade Pushbuttons with integral minature gold-plated leaf switches.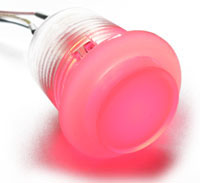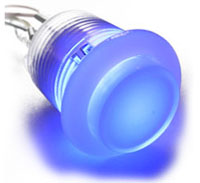 Gold-plated contacts. No tarnishing nor degradation results in no deterioration in response. The contact leaves and the external connections are fully gold plated.
Low inertia The moving part of the button is ultra-light and only 10mm deep, unlike other types where the plunger extends the full depth of the button.
No Click Leaf switch means no clicking micro-switch.

No Plunger Spring The body of the button contains no large spring. This results in a uniquely low actuation force of 45 grams for the entire button.
No Hysteresis. This is the difference in button depression for the contact close and open points. On these buttons the position is the same, resulting in maximum repeated actuation performance. On micro-switch buttons this "dead" distance can be up to 1.5 mm.
Concave top. Most serious gamers prefer the classic concave tops over the convex which are commonly used on Japanese low-inertia buttons.
Robust. The limit stop of the button is supported by the button body not the switch so no chance of switch damage owing to over-enthusiastic play!
Compact integral design. No fiddly assembly after fitting through the panel. Totally enclosed leaf-switch contacts.
Economic Despite their performance these are similar in price to standard arcade buttons and the price is all-inclusive, nothing extra to pay for add-on switch options.
Nut & Thread Fixing. We have retained the traditional threaded fixing rather than the push-in design of certain other low-inertia buttons as we believe this gives the most effective permanent mounting in all types of panel up to 19mm (3/4 in).
RGB Illumination. RGB illumination option! At last full-color RGB lighting without any performance sacrifice!
Pre-Wired LEDs. RGB version has pre-wired dual internal RGB LEDs with 500mm wiring for direct plug-in to our PacLED64 or I-PAC Ultimate I/O boards for dynamic all-color control.
These pushbuttons have 2.8mm switch connector tags.
For I-PAC hand-wired connections we sell packs of 100 crimp connectors.
For Mini-PAC pre-made harnesses, select the 2.8/4.7mm harness version. This version has 2.8mm on pushbutton connections (exclusing Start1,2) and 4.8mm on all other connections.
It does not matter which tag connects to GND and which connects to the interface.
RGB Option have pre-wired LEDs for direct plug-in to our PacLED64 or I-PAC Ultimate I/O boards. Wire length 500mm.
If extensions are required, order our "4-way 200mm M-F extensions".
IMPORTANT: The LEDs do not have current-limiting resistors so must be connected to one of the above controllers which have current-controlled outputs.