Multi-coin Coin Mech Accepts 8 different coins.
The setup procedure for this mech can be quite daunting so here is an example which helps to understand how it works:
To set coin mech to accept 10p = one credit and 20p = 2 credits:
Looking at each column in the table it can be seen that the first mode column (mode 1) gives the available correct choice of pulse combinations, in this case 1 and 2 pulses. The correct pulses appear on coin channels 3 and 4 (rows in the table) so we will set 10p as channel 3 and 20p as channel 4.

Step 1: Program Mech to accept 10p coins on channel 3:
Power OFF
Switch SW 4 and 5 ON
Power ON
Select channel 3 by switch 1 OFF, 2 ON , 3 OFF
Insert 10 X 10p coins. After the tenth coin, the solenoid should click twice.

Step 2: Program Mech to accept 20p coins on channel 4:
Select channel 4 by switch 1, 2 ON, switch 3 OFF
Insert 10 X 20p coins. After the tenth coin, the solenoid should click twice.
Power OFF

Step 3: Set Mech to the correct multi-coin mode (column in the table)
From the table, it can be seen that mode 1 gives the correct pulse count for this setup.
With power OFF, set switch 4 and 5 OFF
Select mode 1 by switch 1, 2, 3 OFF
Power ON and test.

NOTES:
In the table fractions such as ½ mean 2 coins are needed for one pulse.
4 + 1 means an extra bonus pulse is sent after 4 coins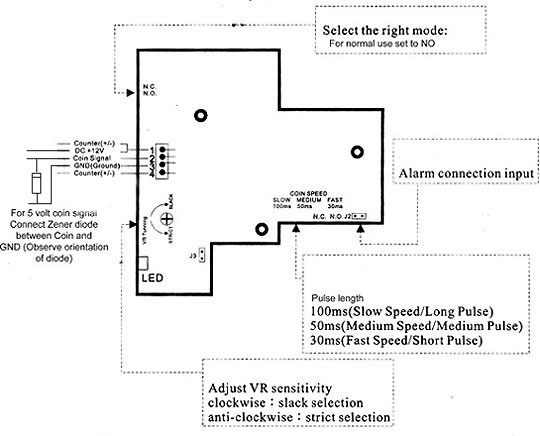 Coin Mech setup steps:

Set the slot height plate to the correct coin size. Note that for larger coins, this plate is best removed to avoid bearing against the coin door.
Clip the correct sample coin into the spring-loaded clip, in place of the dummy plastic coin.

Leave the switches unchanged for most applications

Connections are as follows (see diagram above):

Pin 1 connects to a 12 volt supply. This can be from a JAMMA power supply or a PC disk drive connector (yellow wire).

Pin 2 connects to the I-PAC coin 1 input.

Pin 3 connects to GND on the I-PAC

The Zener diode connects between pins 2 and 3 on the coin mech plug. It is possible to push the wire ends of the diode into the plug connector housing. Note the "line" end of the diode must go to pin 2.
The coin signal is normally a 12 volt signal. If using with devices which expect a 5 volt signal it is VITAL to connect the supplied Zener Diode as shown otherwise the device you are connecting to will be damaged.